Lonesome Animals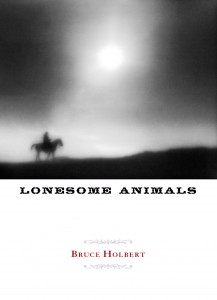 In Lonesome Animals, Russell Strawl, a tormented former lawman, is called out of retirement to hunt a serial killer with a sense of the macabre, who has been leaving elaborately carved bodies of Native Americans across three counties. As the pursuit ensues, Strawl's own dark and violent history weaves itself into the hunt, shedding light on the remains of his broken family: one wife taken by the river, one by his own hand; an adopted Native American son who fancies himself a Catholic prophet; and a daughter, whose temerity and stoicism contrast against the romantic notions of how the West was won.
In the vein of True Grit and Blood Meridian, Lonesome Animals is a western novel reinvented, and a detective story catered to the West. It contemplates the nature of story and heroism in the face of a collapsing ethos' not only of Native American culture, but also of the first wave of white men who, through the battle against the geography and its indigenous people, guaranteed their own destruction. But it is also about one man's urgent, elegiac search for justice amidst the craven acts committed on the edges of civilization.
Excerpt:
He devoured his Bible, like a fly does his meal, consuming a passage, then vomiting its ideas, then feasting upon his own regurgitation.  He stole a Catholic Apocrypha and a copy of the Gnostic Thomas from the priest's library, and gorging on them likewise.  For five months, he studied and when he rose from the books like Rip Van Winkle from twenty years of sleep, the things around him were no longer what they were and he insisted upon a new name to fit such a passage, and from that moment on, he answered only to Elijah.
Praise for Lonesome Animals:
"Lonesome Animals is exhilarating. The dialogue will blow your hair back, the description of land is prose poetry, and the violence is shocking for its intensity and sudden occurrence. This is a study of morality in a world that has lost its morals, a work that transcends its epic story of good versus evil. No character is spared and neither is the reader. Bruce Holbert's fierce novel will enter the canon as a classic." —Chris Offutt, author of Kentucky Straight
"Lonesome Animals is dark, beautiful, compelling, strange, vivid; part Western, part detective story, altogether brilliant. With the authority of myth, it is a book obsessed with justice and history, and its two main characters—the retired lawman Russell Strawl and his prophet son Elijah—are as harrowing and moving a marriage as I have read in years. It's an incredible book by an incredible author. It will break your heart and leave you gasping."—Elizabeth McCracken, author of The Giant's House
"Lonesome Animals is an impure marvel. Ths cowboy noir is loaded with lyrical detail, black humor, and a kind of antic despair. At its center is the compromised lawman Russell Strawl, a pilgrim making slow progress through the blasted ruins of Western myth. He turns violence into a kind of brutal music and provides the weary, stubborn heart of this astonishing debut."
—Max Phillips, Shamus-winning author of Fade to Blonde